WoW is hosted by
Breaking the Spine
.
The book I'm waiting on this week: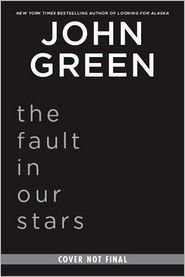 The Fault in our Stars by John Green
Author of the
New York Times
bestseller
Looking for Alaska
, John Green delivers his next page-turner --
The Fault in Our Stars
. Pre-order his book today!
I really enjoy John Green's books, so I'm really looking forward to this one!
-o-
[Check out my
tumblr
]
I finally got into Pottermore! Well, I got in on the second day, but still! I'm so excited! Did you get in?
So, there's tragic news. For those of you who don't live in Puerto Rico, we only had one good bookstore, and that, ladies and gentlemen, was Borders. Only one store. Which closed at the end of July. So this is call for chaos. No bookstores in my country anymore. A group of investors is trying to buy the store back, but the chances look slim :\.
This means that the quantity of reviews is going to diminish a bit. I've still got a big enough TBR pile to keep this going, but not that much, so I'm going to have to find a substitute. E-books maybe? I've always hated those.
Well, what are you waiting on?
Love, -M